EA | EC
Car type / Fee :
EC : Green cars
EC class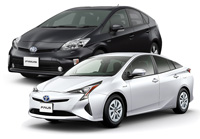 Minimum price:
¥ 8,800
Number of passengers:
For 5 passengers
Recommended for:
Recommended for long drives
Load

Suitcase (large) × 1
Suitcase (small) × 2
Travel bag × 3
Though fuel efficiency and performance are not much different, the interior of EC class is much better than that of EA class.
The body is slightly bigger, which means the interior is much broader, thus creating more leg space for the rear seats.
The drivers don't have to worry about a little bit of extra cargo since they come with a relatively broad loading space.
If what you are looking for is a more steady and high-quality driving experience, we recommend this class.
*No-smoking vehicles are unavailable in remote islands.
*Vehicles equipped with navigation systems and ETC transponders are unavailable in remote islands.
*The picture is a sample.The color and the type may differ from the actual vehicle.
Price list
Vehicles may not be available at the time or the store you visit. Check for available cars in the store beforehand.
| Price | Up to 6 hours | Up to 12 hours | Up to 24 hours | Extend for one day | Extend for one hour |
| --- | --- | --- | --- | --- | --- |
| Online booking | ¥ 8,800 | ¥ 9,900 | ¥ 12,100 | ¥ 9,900 | ¥ 1,650 |